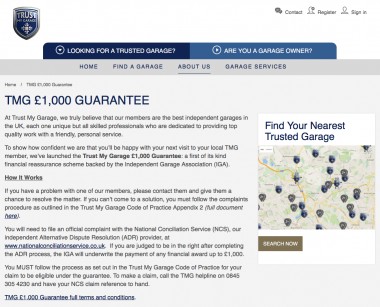 Trust My Garage £1000 Guarantee
Friday 12 May, 2017
As a long standing member of Trust My Garage (TMG) we are delighted to announce that there is yet another great reason to use Garage Express for all your car and van services, MOTs and repairs. The Independent Garage Association (IGA) has backed Trust My Garage by providing a £1000 guarantee to customers, so that in the incredibly unlikely event that there is an unresolved dispute there is cover in place. Their intent is to give complete peace-of-mind to customers and a strong illustration of the confidence that can be placed in the quality of work received from our Garage.
The IGA website goes on to state "We know our members are the best garages around and the very low level of complaints that are received by NCS about TMG members supports this. We stand wholeheartedly behind our members in their delivery of quality and value to consumers and we're prepared to back this up financially with the Trust My Garage £1,000 Guarantee".
The IGA has worked tirelessly to provide continuous improvement within the independent garage industry and this backing of Trust My Garage is another illustration of its commitment to all the customers of its members.
The process is simple, once the Trust My Garage complaints procedure has been followed, should there be an unresolved dispute, you can claim the value of the works carried out, or £1000, whichever is the higher amount. To find the details of this procedure simply visit www.trustmygarage.co.uk.
When you are looking for a trusted garage in North London for a car or van service, we are on hand to deliver the high quality service you need, backed up by the reassurance that we a member of Trust My Garage and you have a £1000 guarantee. Additionally the £1000 guarantee is on top of our standard parts and labour warranty.
Please call us on 0208 905 8788 for more details or come in and see us in our North London garage.
Book
Book your Car, Van or Minibus using our quick book from or call our team on 0208 905 8788.
Fleet Manager, Fleet Van Servicing Centre North London.

Whilst travelling to you you ordered the part, and an hour after my initial call my van was on the lift and a new starter-motor was being fitted. An hour later I was on my way back to work. I cannot thank you enough for your help. Not only did you go out of your way to keep us working, you did it at a very sensible price.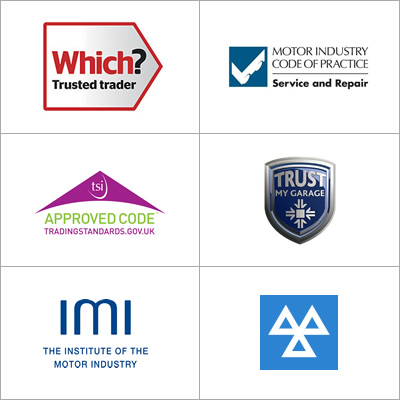 Your local garage in North London