Testimonials from our customers
We care about our customers – read a selection of their testimonials
Thank you for carrying out the service for my car. The service you and your team provided was fast, efficient, competitive and comprehensive. It was great to have my car picked up and delivered back to my home the same day. I will certainly use you again and continue to recommend your service to others.
Nigel Young. Car Servicing Customer, London, Feb 2016
Just a short note to thank you for the excellent service provided by Garage Express over the last few months. Every time I have needed your services, no matter how small, I have been treated in a truly professional manner. Your staff are all polite and courteous and waste no time in dealing with the matter in hand. I have no hesitation in using you in the future.
Lloyd Daley. Car Servicing Customer, London, December 2015
This was the first time my car has had an MOT and I have not had to spend a few hundred pounds to get it to pass.  This is thanks to your servicing.  Many thanks for looking after all my motoring needs. I would have no hesitation in recommending your garage to friends and family.
P. Bradley. MOT & Car Servicing Customer, Colindale, London
Another happy customer! He was thrilled that his car passed his MOT first time due to our servicing previously!
---
There's many things about Garage Express that I can compliment you about - the outstanding showroom, Poppy the dog, the friendly atmosphere and smiles the customer receives, the competitive prices and the unbeatable MOT price as well as the 'no problem' attitude you all have. Thank you so much!
G. Freedman. Car Servicing Customer, North London
---
I would like to thank Garage Express for the brilliant and professional service you gave both in general and to my car! I haven't found this level of care and service from any other independent or national garage and will always recommend you.
G.F. Car Servicing & MOT Customer at our North London Garage
---
Garage Express called to give me a full comprehensive explanation of what was wrong and a reasonable quotation to get it all fixed. The car was repaired and returned back to me the next day. I found the whole process to be painless and hassle free. I will now always call Garage Express when I need anything done to my car.
Z. Nairi. Car Mechanical Repair Customer at our North London Garage
---
Garage Express has provided a very convenient service for a clearly explained and reasonable price and I will be happy to recommend you to anybody.
R.E. Van Servicing Customer, North London
---
Garage Express came to the rescue. A professional and reliable garage and I cannot recommend you enough. THANK YOU THANK YOU THANK YOU. You are the BEST.
M.Magar. Customer at our Car Servicing Centre, London NW9
---
In my experience, garages don't often try this hard to please their customers, so I will definitely be back, and in the meantime recommend Garage Express to anyone in need.
D.Holyland. Fleet Servicing Customer, North London
---
Garage Express were great when I had my car serviced recently. I have for over 15 years gone to Mercedes for my car repair and service, but never again. They proved to me that not only were they very competitively priced, but also provided great service.
P. Cohen. Mercedes servicing customer
---
Whilst travelling to you you ordered the part, and an hour after my initial call my van was on the lift and a new starter-motor was being fitted. An hour later I was on my way back to work. I cannot thank you enough for your help. Not only did you go out of your way to keep us working, you did it at a very sensible price.
Fleet Manager, Customer, Fleet Van Servicing Centre North London
---
Bringing the car to Garage Express was a hassle-free experience and I was very pleased with the service I received and the cost. I was very impressed with the modern facilities, your approach and that of your team.
J.P. Car Servicing Customer, North London NW9
---
Most importantly for me, the cost charged was less than half of that quoted by the main dealership, for a service which was at least equally as thorough.
N.B. North London Car Servicing Customer
---
You have not only met, but surpassed our expectations. Your team is always friendly, polite and professional. The technicians always conduct thorough inspections and any work done in maintaining the vehicles or replacing parts is done to the highest level.
J. Fourie - Fleet manager. Fleet Van Servicing, North London
---
I popped in to have my lights looked at and was given excellent service and advice - and also the guys noticed that I had bald tyres and was therefore able to have them changed straight away, avoiding a possible fine (which I was unaware of). The garage is clean, the staff efficient, friendly and knowledgeable.
Anon
---
Not only did you do a fantastic job with my car, you excelled with your amazing customer service. You are the best at what you do and I will highly recommend you to everyone and anyone who needs a garage.
D.Z. Car Repair & Servicing Customer, NW9 North London
---
I have been using Garage Express for the past 5 years for my cars annual service, and the work is always carried out to the highest standard. The collection and delivery service that you provide is very helpful and time saving, and the costs suit my budget.
H.O. Car Servicing Customer for 5 Years. North London
---
I knew exactly whose help I would need and, sure enough, help was at hand. For quality work and peace of mind do call Garage Express.
D.R. Car & Van Repair Centre Customer, North London NW9
---
Thank you for the very professional service. It was refreshing to see that good quality work and customer care still exists. The added benefit of a pickup and return on the same day, was the icing on the cake. I would have no hesitation in recommending you to our friends and family thanks for such a helpful and stress free experience.
M.M. Servicing Customer, London
---
A very good impression. A clean and efficient garage, with extremely helpful staff, excellent level of service and feedback and reasonable, competitive prices.
Anon
---
The reception room looked professional, clean and tidy with Poppy your dog entertaining customers and mechanics for good measure. The staff were courteous, respectful and always had a smile, which certainly projects an air of friendliness and reliability.
G.F. Car Servicing & MOT, North London
---
I had a great visit, a lovely coffee and I was in and out in half an hour and the charge was very reasonable, so thank you all round to the team at Garage Express.
J. Harding. North London Car repair customer N11
---
Great guys - One of the staff dropped me at a local shopping centre whilst they did the work. They were very friendly - even called a couple of different suppliers and knocked £50 off a potential £300 bill. I was really impressed and will be using them again for servicing and MOT when next due.
Anon
---
Excellent as always, Top Guys always well looked after.
Anon
---
Your staff were nothing but helpful and informed at all times exactly what was occurring with the car and any additional work that may need to be done in the future.  A massive bonus for us was your competitive prices.
J. Miller. Car servicing customer, EN5
---
Using the services of Garage Express is always a pleasure and the prices are reasonable too. The car was ready a short while later after a very pleasant wait in the reception room watching TV, using your wi-fi, and having a hot chocolate!
Gavin. Car servicing customer AL9
---
I have recently been driving around in a very hot van due to the air conditioning not working. The mechanics at Garage Express fixed the air con while I waited at a reasonable price. I am very pleased with the work they carried out and will certainly be returning there in the future.
B. A. Van Servicing Customer, North London
---
Over the past three years you have supported me and my families cars in times of need. It has always been a breeze to get the work done.  Indeed you collected my car in the morning and I had it delivered back to me by the end of the day.  Your staff are knowledgeable and polite and your waiting area is clean and wifi enabled.
M.Y. Car Servicing Customer, London NW9
---
It was a real help to have the car picked up and delivered back to my workplace. Having no real knowledge of the workings of cars I have to rely on the garages expertise and honesty in diagnosing any problems on the vehicle and I certainly trust Garage Express in this respect. I would not hesitate to recommend Garage Express to anyone looking for a reliable and Trustworthy Garage.
S. Holyland. Car Servicing, North London
---
I would like to say a big THANK YOU to the team at Garage Express. I always get honesty and great service from your team and would always recommend Garage Express to all my friends and family.
M. Malde. Car Servicing Customer, Hendon London
---
Book
Book your Car, Van or Minibus using our quick book from or call our team on 0208 905 8788.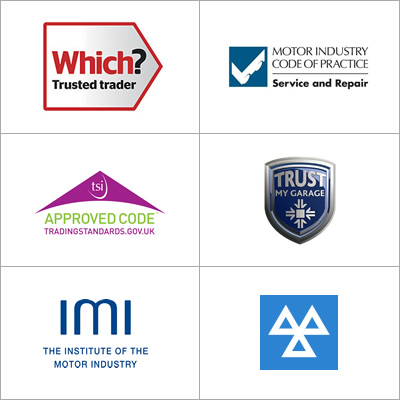 Your local garage in North London