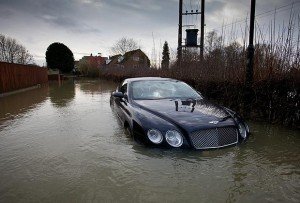 Bentley car stuck in flooded water
Driving in flood water
Thursday 13 February, 2014
With the terrible weather the country has been suffering we felt it was important to inform people about the damage driving in flood water can do to their car or van.
It's imperative not to allow the engine to suck in water. The damage can be colossal and irreversible. As fun as it may be to drive through a big puddle the cost to your pocket may not be worth it! It's best to avoid driving through any flood water but if you have no choice but to drive through a flooded road remember the following points:
Drive in the highest point of the road (generally not near the curb)
Don't drive fast creating a wave in front of you
Be courteous when passing other cars or indeed pedestrians (no one wants to go home soaked by a passing car!)
Don't drive through fast flowing water. You could be swept aware and most likely lose control of the vehicle.
If your engine cuts out halfway through driving in water – DO NOT RESTART IT! You will suck in too much water as the engine re-starts and cause the engine to cease and expensive repairs will be needed. Call for breakdown recovery.
Test your brakes when you drive on dry land again. If they have ceased – call breakdown recovery.
Don't use your fog lights as it can dazzle drivers behind in rainy conditions.
If your journey isn't urgent or they is an alternative route you can take, consider your options before heading out.
Take your mobile phone with you and make sure its charged.
On a bright note I did hear that we are going to have a very warm summer – something to look forward to I suppose!
Take care out there!
Book
Book your Car, Van or Minibus using our quick book from or call our team on 0208 905 8788.
Fleet Manager, Fleet Van Servicing Centre North London.

Whilst travelling to you you ordered the part, and an hour after my initial call my van was on the lift and a new starter-motor was being fitted. An hour later I was on my way back to work. I cannot thank you enough for your help. Not only did you go out of your way to keep us working, you did it at a very sensible price.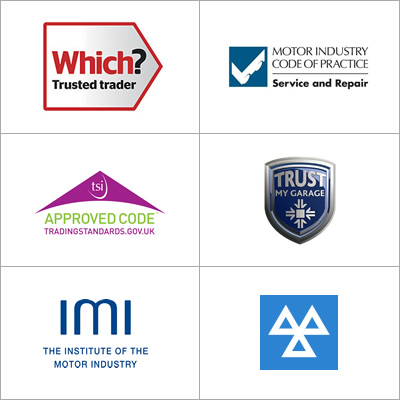 Your local garage in North London